Synchron Stage Orchestra
Thanks to Vienna's reputation as a great music center, many of the best instrumentalists and singers from around the world come here to study and work. Because of the many concerts and musical events that happen here daily, these talented and highly trained musicians have plenty of opportunities to keep in practice. We hand picked musicians from all of the renowned Viennese orchestras to create our very own Synchron Stage Orchestra.

The orchestra's prominent concertmaster Dimitrie J. Leivici is one of the most sought after Hollywood studio violinists, having participated in over 1,000 movie scores including projects such as Avatar, Titanic, Pirates of the Caribbean, Toy Story, Indiana Jones, and more. Leading the Synchron Stage Orchestra reconnects Dimitrie with his hometown of Vienna, where he studied at the Vienna Conservatory and the University of Vienna.

While this orchestra is a fantastic reason to record at the Synchron Stage, you can also choose from a number of other great ensembles, such as the Radio Symphony Orchestra, the Vienna Symphony Orchestra, chamber music ensembles, brass ensembles, big bands, gypsy style groups and even Schrammelmusik.
Instruments
Synchron Stage Vienna offers several pianos and an entire arsenal of drums and percussion instruments. All instruments are stored in air-conditioned rooms where the climate is identical to the recording stages so they are ready for use in a session at all times. [download list]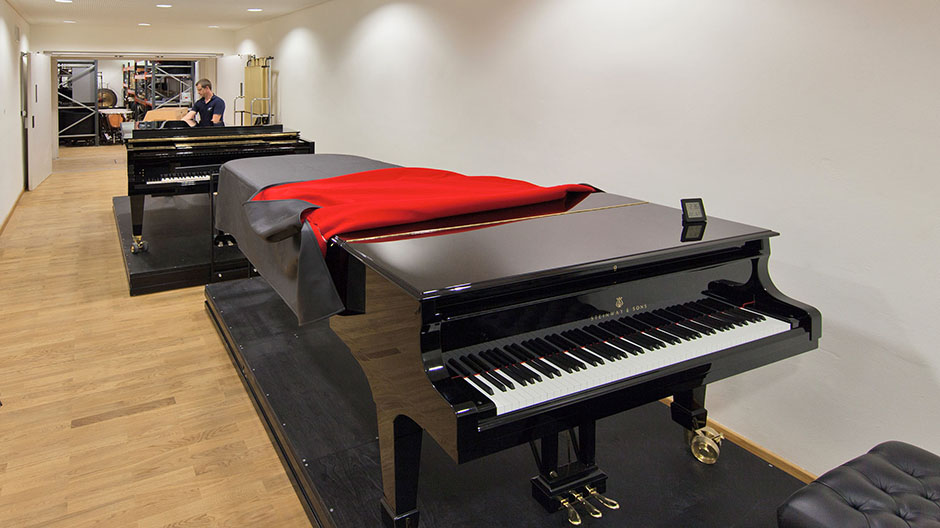 Bösendorfer Imperial 290
with CEUS Performance Reproducing System


Steinway D-274


Yamaha Disklavier CFX EN PRO


Blüthner Grand Piano
(1894, refurbished), located in the Composer's Lounge


Stingl Concert Grand
(refurbished), located in the VIP Room
Synchron Stage Vienna invited Stefan Mendl, highly acclaimed pianist and founding member of the Vienna Piano Trio, to play and explore three of the most famous concert grands on Stage A. Our instruments, a Bösendorfer Imperial 290, a Steinway 274 and a Yamaha CFX, were recorded under the same conditions to provide comparable results. Using three different piano pieces as examples he describes the differences and advantages of each instrument. No EQs or dynamics were added during mixing.

Featured pieces:
Franz Liszt, Sonata in B-minor / Maurice Ravel, Gaspard de la nuit / Frédéric Chopin, Ballade No. 4 in F minor, Op. 52
Drums & Percussion Instruments
Our huge selection of drums and percussion instruments is available for rent. All instruments are owned by and stored at Synchron Stage Vienna, so there's no transportation cost and the instruments are maintained and always available in perfect condition.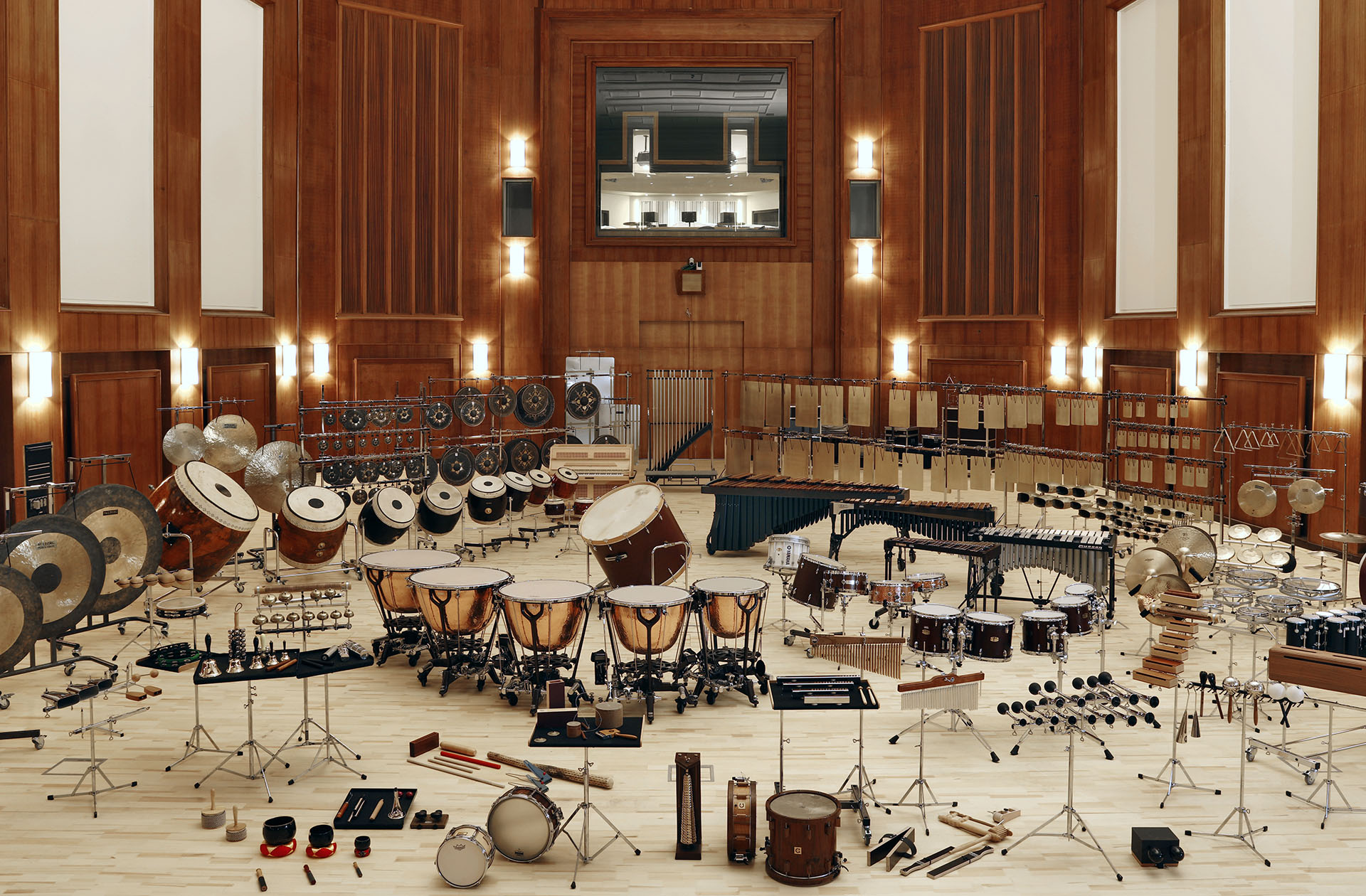 | | Instrument | Brand | Description |
| --- | --- | --- | --- |
| | Timpani | Adams | 5 Philharmonic Light |
| | Bass Drum (large) | Kolberg | Dicke Bertha 36" Common beech |
| | Bass Drum | Lefima | BD 219 28"x23" |
| | Taikos | Kolberg | 10 Taikos: 36", 26", 20", 18", 16", 15", 13", 12", 2 x 8" |
| | Odaiko (Big Taiko) | Simonsen | 53" |
| | Snare Drum 1 | Aural | 14 x 5" Nut, wood hoops, double strainer, calfskin |
| | Snare Drum 2 | Yamaha | GSR-1450 (14"x5") |
| | Snare Drum 3 | Kolberg | 14" x 6.5" copper with "Piano-Forte" system |
| | Snare Drum 4 | Kolberg | "Piano-Forte" Rosewood 14"x6.5" |
| | Piccolo Drum | Kolberg | Copper 13"x3,5" |
| | Tarole | Pearl | 10" x 6" Piccolo Wooden Snare |
| | Field Drum 1 | Kolberg | 16"x16" common birch, plastic drumhead |
| | Field Drum 2 | Aural | Nur 14x13", wood hoops, double strainer, calfskin |
| | Marching Snare | Yamaha | MS-9314. REMO White Max skin, Falam snare side |
| | Concert Toms | Yamaha | 8 Toms CT-9000 series (6"-16") |
| | Roto Toms | Kolberg | 6 Toms 6"-16" |
| | Boo-Bams | Kolberg | C3-F4 chromatic |
| | Surdo Drums | Meinl | 3 pcs. medium to large |
| | Congas | Meinl | Professional Quinto, Conga, Tumba |
| | Bongos | Meinl | FWB400NT |
| | Timbales | LP | LP257-KP |
| | Mridangam | Original Indian | Classical Indian drum to be played on two sides |
| | Tamburine 1 | Kolberg | 2030 DW |
| | Tamburine 2 | Lefima | 2091-A |
| | Splash Cymbal | Zildjian | 3 pcs Avedis (8"-12") |
| | Piatti 1 | Zildjian | Symphonic French 18" |
| | Piatti 2 | Zildjian | Classic Medium Heavy 16" |
| | Piatti 3 | Zildjian | Concert 20" |
| | Piatti 4 | Meinl | Symphonic Extra Heavy 22" |
| | Susp. Cymbals | Zildjian | 16" and 18" |
| | Antique Cymbals | Kolberg | 1 Oriental, 1 Asian Pair |
| | Tamtams | Wuhan | 3 Original + 3 flat (80-120; 50-90 cm) |
| | Burma-Gongs | Kolberg | C2-C6 |
| | China-Gongs | Kolberg | 5 pcs (Peking opera gongs) |
| | Tubular Bells | Bergerault | C25 (F4-F6) |
| | Plate Bells | Kolberg | C2-C7 |
| | Hand Bells | Kolberg | 25 pcs. F5-F7 chromatic |
| | Cencerros | Kolberg | F3-F6 |
| | Temple Bells | Kolberg | 3 Temple bells, 13 Rin gongs |
| | Cowbells | Meinl | 1301L, 1303L, 1305L |
| | Marimba | Adams | Alpha MAHA50 (C2-C7) |
| | Xylophone | Adams | Artist Alpha 2XFA1HR40AHA (C4-C8) |
| | Vibraphone | Musser | M55 |
| | Glockenspiel | Yamaha | 2500 (C5-E8) |
| | Celesta | Kolberg | C3-F8 |
| | Crotales | Bergerault | BE-CAP12 (C6-C8) with damper pedal |
| | Wood blocks | Kolberg | 5 pcs |
| | Temple blocks | Kolberg | C5-C6 chromatic |
| | Temple blocks | Original Chinese | 5 pcs |
| | Triangle | Kolberg | 13 pcs |
| | Thunder sheets | Kolberg | 2 pcs |
| | Wind machine | Kolberg | 1 piece |
| | Ratchets | Kolberg | 3 pcs |
| | Car horns | Kolberg | 13 pcs |
| | Castanets | Kolberg | 4 Pairs |
| | Slapsticks | Kolberg | 3 pcs |
| | Guiros | Kolberg | 3 pcs |
| | Agogo bells | Kolberg | |
| | Vibraslap | Kolberg | 2 pcs |
| | Bell tree | Kolberg | |
| | Jingle bells | Kolberg | |
| | Jingle ring | Kolberg | 2 pcs |
| | Flexatone | Kolberg | 2 pcs |
| | Anvil | Kolberg | 4 pcs |
| | Waldteufel | Kolberg | 2 pcs. |
| | Wind chimes | LP; Meinl | LP 626 Lu Bar Chimes; LP 513 Studio Series Bar Chimes; Meinl CH66HF Chimes |
| | Rainmaker | Kolberg | 100 cm (39.37") |
| | Lion's roar | Kolberg | 14" suspended |
| | Bird whistles | Kolberg | 6 pcs |
| | Flutes, whistles | Kolberg | 13 pcs |
| | Siren | Kolberg | 2 pcs |
| | Slit drum | Kolberg | c1/e1 |
| | Shekere | Pearl | PSK-60 FC |
| | Shaker | Kolberg | 3 pairs of Maracas + 4 Shakers + 2 Cabasas |
| | Claves | Kolberg | 2 pairs |
| | Mallets & Sticks | Kolberg | Extensive arsenal |